With an artificial hedge panel, you bring this natural experience into your living spaces and you can enjoy it every day. Artificial turf makes your balcony or terrace garden greener. However, with the difference that you do not have to worry about watering or fertilizing, or mowing the lawn on the fence. The lawn on the hedge, which is very similar to its natural model, can be used in a variety of ways.
You are able to use synthetic lawn fence panels in order to cover your surroundings in the outdoor area. In addition to this, many people can use artificial turf, for example, as wall coverage for their balconies or terrace. On the other hand, this product is quite functional in the surroundings of a swimming pool or whirlpool.
In order to robust wall coverage for children's playrooms, leisure, and basement rooms, artificial hedge panels work quite well.
The lawn on the fence panels can also be used in the winter garden, on the roof terrace, or as a play area that can be rolled out in the garden. Another advantage of the evergreen artificial turf panel is that it can easily lie outside all year round. The robust fabric resists environmental influences such as moisture and heat and also withstands permanent UV radiation. In high-quality models, knobs underneath the lawn fence panels ensure constant drainage of moisture and optimal ventilation. Occasional maintenance is sufficient to ensure that the artificial turf retains its appearance over the long term.
What are the Differences Between Artificial Hedge Panels and Synthetic Lawn Carpets?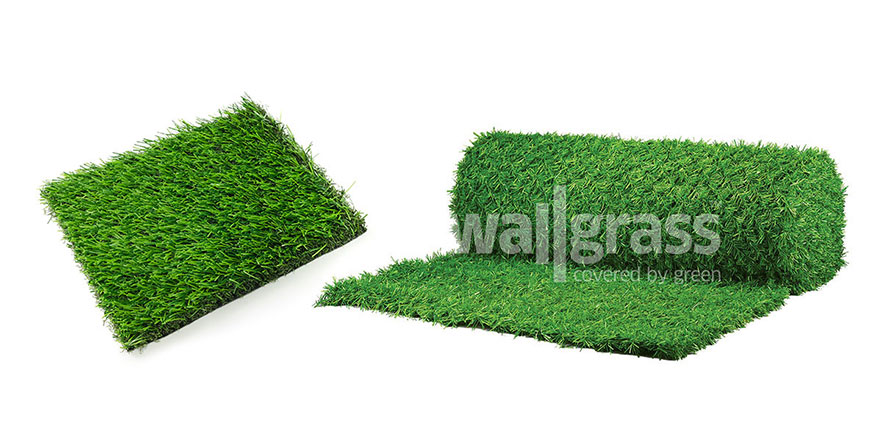 Terms such as artificial hedge panels or lawn carpets are often used synonymously. But it is a big misunderstanding among the public. Strictly speaking, lawn carpet refers to the carpeting that is available on rolls in different widths of, for example, 1.33 m, 2 m, 3, and 4 m and lengths of up to 25 meters. In general, they are in a round, angular, or square shape that can be used as a conventional carpet under seating groups. Artificial hedge panels, on the other hand, have a strict structure in other words you are not able to roll it on the floor like synthetic carpets.
In terms of colors, shapes, and materials, artificial hedge panels are so different. Artificial turf or modern synthetic turf is very different from the products from previous years. Today, new plastics and processing techniques ensure robust and resistant wall coverings that will last for many years despite changing weather conditions and increasing UV exposure from strong sunlight. There is also a greater variety of colors and shapes. So you can no longer use artificial grass hedge panels only as a wall coverage in the outdoor area, but also bring the pleasant feeling of nature into the house with their diverse structures.
Popular and Inexpensive: Synthetic Grass Made from Needle Felt
Needle felt has proven itself as a material for artificial turf. The dense fabrics made of polypropylene and/or polyester fibers are extremely robust, durable, and insensitive to weather and environmental influences. During production, the plastic fibers are tightly interwoven in a complex process and applied to a solid base. This creates a solid wall coverage as artificial hedge panels or a floor covering as an artificial grass carpet covering that is flame retardant.
An important requirement in the event that you use your lawn commercially or outdoors and want to place your barbecue on it. In any case, we recommend that you protect the wall from damage, for example by placing a fireproof plate made of metal or stone under and around the grill.
Lawn colors are quite suitable for every taste. The preferences for the color of the artificial turf are different. While many people prefer a strong light or dark green, others like it subtler without having to forego the advantages of synthetic turf. In the Wallgrass product list, we offer you the right artificial fence covering for every taste. For example, choose your favorite color from lush light green, an autumnal dark green to shades such as beige, dark gray, or chocolate brown. The latter is ideal if you lay artificial turf in the office or apartment, but want to forego the typical green. The feeling of the surface and the processing of the artificial turf hedge panels are of course independent of the color.
In terms of the quality criterion pile height, the height of the pile determines how it looks on the artificial lawn. A pile height of 20 to 30 mm is ideal for everyday use. It gently cushions every touch without feeling that it is too long to be natural grass. The height comes closest to the feeling of real grass on the wall or the surroundings of your living spaces. If this is freshly mowed, the stalks have a comparable height. On our website, you are going to find artificial turf hedge panels with different pile heights.
Are Installation Steps of Synthetic Hedge Panels Same with Artificial Grass Carpets?
Of course not, it is another common misunderstanding due to terms of artificial grass carpet and synthetic grass carpet. While we install synthetic grass carpet on the floor, artificial grass hedge panels are installed on the wall or anywhere without needing support like a surface. Laying artificial turf carpets are made in five steps.
As a first step, we provide a level surface with leveling compound if necessary. Then we cut the artificial turf to the required width and length. Afterward connecting the individual strips on the underside with special seam tape comes. When joining the carpet strips, note the direction of the fibers. As the last step we layout the carpet and secure it with glue, tape, nails, or screws. If you have to glue several strips together, deep-pile artificial turf carpets are ideal. Due to the longer fibers, the bumps are hardly noticeable, which gives the carpeted lawn a harmonious overall appearance. But all these steps are valid for the installation of artificial grass carpets only.
Maintaining Artificial Grass Hedge Panels: How to Preserve Your Green Gem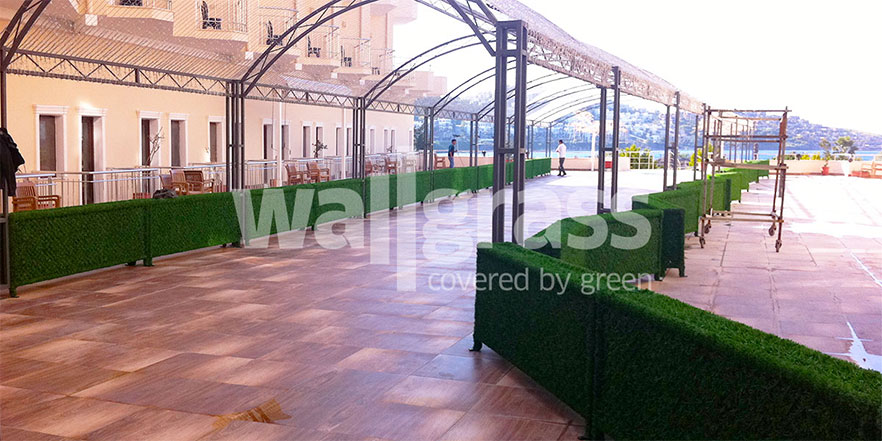 In contrast to real lawns, the maintenance effort of artificial grass hedge panels is limited. You do not have to mow or water the evergreen wall covering regularly, and there is no need to add fertilizer, which will thank you for the environment. On the other hand, you are able to find out what is really necessary to maintain the look of your artificial meadow in the long term in our tips below.
Occasionally you need to brush up the fibers in heavily used areas with a stiff broom or brush. Removal of dirt with a vacuum cleaner or by hand to prevent accidental entry. It is quite good to prevent stains from spilled liquids by immediately rinsing with plenty of water.
On the other hand, you need to remove coarse soiling with lukewarm water and normal household cleaning agents. In addition to all these crucial points, if you remove standing puddles of water quickly with a scrubber or a water vacuum regularly, you are able to protect the first-day look of your artificial grass hedge panels. When moving tables and chairs, you have to lift them and do not slide them over the fibers. But there is a common question among the clients who use artificial grass hedge panels first time: what are the right autumn and winter care?
As soon as the gardening season draws to a close, the artificial turf surface needs a little more attention. In late autumn - just before the onset of winter - remove trees and leaves from the green area. If you vacuum the hedge panels thoroughly to remove dirt and seeds from the fiber web, you can save the fresh green outlook of your artificial fence during all seasons.
How About Artificial Grass Hedge Panel Usage in Gardens?
Artificial turf panels on balconies or patios are a popular and widely applicable wall covering or landscaping. Since it is particularly easy to care for and robust, it is often used as an alternative to common metal or wooden hedges. The artificial turf is not only ideal for larger but also for smaller areas. It is mainly used in cities, where regular mowing of the lawn and any other maintenance can be problematic. In addition, the artificial turf does not have to be just green. Blue or red can also be used very well for the children's room, the fitness room, or in the basement instead of a wooden separation panel.
Children like to play in a greener area, and it is definitely not just them who are better off spending more time in the fresh air. The soft look is more pleasant to the eye and can also be used for the basement or fitness room. The lawn on the balcony stays beautifully green in winter and reduces gardening work, which is almost unthinkable for busy city dwellers. Incidentally, it is also soundproof and can be easily combined with various potted plants. Artificial grass hedge panels as a greener and natural-looking wall coverage for the balcony or terrace are a great design option to create a more natural atmosphere in the urban environment of the big cities. Because we have in need to feel in a more natural environment during our stressful lives in crowded cities. Artificial turf hedges are available in different thicknesses and green shades. You are able to combine artificial turf hedge panels on the balcony or terrace with natural plants.
You have to pay attention to the knobs on the back. Laying the artificial fence on the balcony or terrace is an accessible option to redesign a little-used space without hours of gardening, making it more popular and cozy for all family members. Different sizes, colors, and qualities are available on Wallgrass company. This company offers exactly what you need with the experience that they have gained for years in international markets. They have been sending a large variety of products to more than 70 countries all around the world. We can express them as the USA, the UK, Albania, Kosovo, Serbia, Saudi Arabia, France, Italy, Portugal. Regarding the quality, you can find what you need in your living spaces in our services. If you are willing to get deeper information about our other services, you can click on this link and have a closer look our next article.