For an operator to benefit from the advantages of an artificial grass hedge wall in the long term, certain requirements must be met in planning, construction, and operation. Artificial grass or synthetic turf, the correct technical term, has become more and more widespread in recent years. It is particularly in great demand where football clubs feel inhibited in their development due to their old tennis courts, where the natural grass field has degenerated into a "field" or where the natural grass does not allow sufficient training times due to the period required restrictions on use. Finding good training and playing conditions at all times with comparatively little maintenance and being able to do sports on the pitch in the evenings in winter and thus being attractive to old and new club members, are the main reasons for building new artificial turf fields or converting existing facilities in such.
Many years of experience have shown that the above expectations can be met. But on the other hand, there are other products which have become so much common like artificial grass covering: synthetic grass hedge panel! If you are looking for different artificial grass products or you have questions about installation and dismantling or about repairs or maintenance, you are able to use our service. Thus you are able to receive free, quick, and uncomplicated offers from one of the most renowned companies in the market: Wallgrass.
It is Crucial to Know Knockout Criteria
Such a synthetic system can be badly affected by influences from the immediate environment. An adjacent running track with the wall covering is just as unsuitable as a jump pit from which sand gets onto the artificial turf. It is also very unfavorable to have artificial turf panels directly adjacent to a tree population. Any entry of non-system organic or inorganic components leads to problems. And a large proportion of the regular maintenance measures are aimed at removing such debris since the foreign bodies lead to the formation of moss or hardening in the layer structure of the system and thus impair the functional sports properties and shorten the life cycle.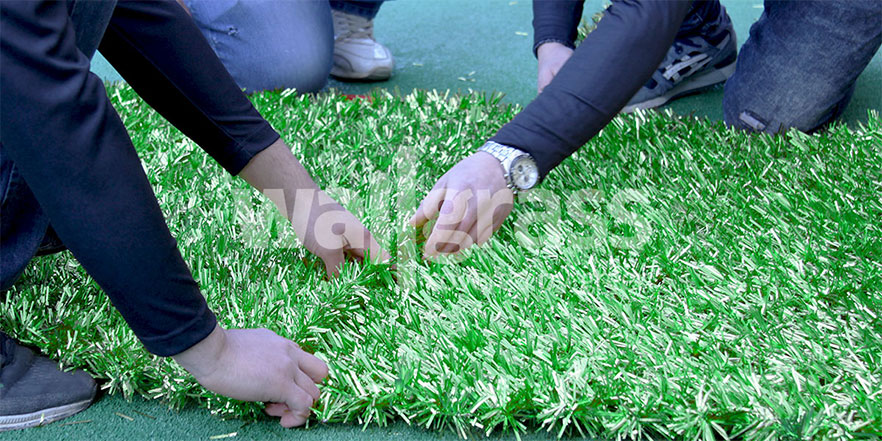 For these reasons, too, the construction of an artificial turf hedge panel should never be viewed in isolation and, under certain circumstances, cannot be fitted 1:1 into an existing sports field. This consideration also includes the fact that the desired number of hours of use can only be achieved with a floodlight system, which may have to be re-installed. A more complex fence and gate system may also have to be installed if vandalism has to be prevented. Of course, the selection of the most suitable product also leads to the greatest possible satisfaction with the artificial turf hedge panels and this is also from an economic point of view.
To Find a Proven Specialist in the Market
From the product selection to the tender and installation to the care and maintenance, it is essential to involve a proven specialist as a competent partner of the builder and his representative in the entire process. For example, a typical problem with artificial grass panels is an under-calculated amount of infill material. The filling level that is too low can also come about when companies involved in construction compensate their low-price offers in this unfair way. Only a project partner who is experienced in sports field surroundings construction is able to prevent such deficits.
Before the builder or main user of the artificial turf panel to be created starts a construction project with a synthetic turf area, he should have done his homework and drawn up a useful concept that shows in which sports the field is used how intensively and at what level of competition. In the sense of full cost accounting and calculation with all variables, a budget for the ongoing maintenance and repair work must be available in addition to the initial investment - and last but not least, you have to think about the end from the beginning and plan the amount that will roughly be incurred. The floodlight system is also part of the full cost calculation, as is the water consumption if watering (as recommended) is carried out.
At this moment Wallgrass comes into the game as a well-known and very experienced company in this industry. Besides our countless successful projects in this specific subject, we continue to create new products day by day in order to offer diverse options to their clients. Due to our approach to our customers and professional attitude, we have been enlarging their business network all over the world. Thus we can have a strong exportation connection with Algeria, Saudi Arabia, Spain, the UK, Malta, Georgia, Russia, and many more.
How to Choose the Most Suitable Option for Our Needs?
Without having your own requirements, it does not make sense to choose an artificial grass hedge panel. A system tailored to the highest demands in football is only conditionally multi-purpose or too demanding in terms of maintenance to be released for less controlled use without access restrictions. On the other hand, in order to create sports and leisure activities, for example in public spaces, for schools or as an additional attraction on the club's premises, i.e. to enable all kinds of activities for everyone, more simply structured installations are better suited. The optimized playing characteristics offered by a system that was developed for professional football can only be maintained with a care and maintenance effort that may come very close to that for natural turf. If the place is actually treated so carefully, it is no longer a freely available playground that is always available for all interested parties and all kinds of activities.
The variety of artificial turf products is already large and the providers continue to present innovations and improvements in detail that can affect the substructure, the infill, the filament, or the overall construction. With the well-known providers, who can ultimately show numerous references, the customer can be sure that the tested and certified products are flawless and of high quality. And he should pay attention to the seal of approval with the considerable investments in view of the up to 15 years that the new sports field should be in use with appropriate care.
Artificial Grass Hedge as a High-Quality Sample with All Components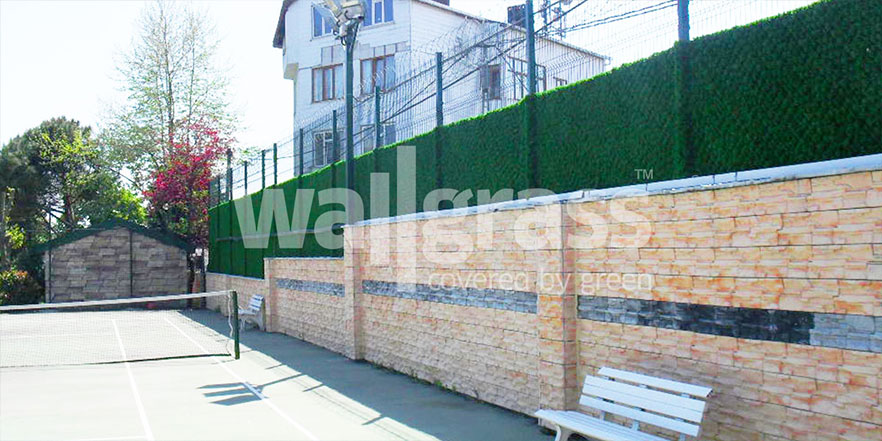 When it comes to low-price offers, skepticism is the order of the day. Indeed, a significant number of sports fields are currently being dismantled in Turkey. In some cases, materials have been used that are at least suspected of being hazardous to health, that are questionable in terms of environmental protection, or that are simply inferior quality. For the layman and even the expert, the difference is not always obvious at first glance. The components of the material include UV stabilizers. If these are not mixed in in sufficient quantities, the manufacturer makes savings, but not the customer. While the product may not initially differ from a higher quality product, the problems arise with continued exposure to the sun, the color fades and the functional properties also deteriorate quickly.
Furthermore, the artificial hedge's top layer is not to be considered alone, but also the elastic layer and the layered substructure in the ground. All components are dependent on each other and form an overall system in which each component has its share in the function and service life. In this respect, savings potential can be worked out more sensibly, considering the entire constellation, than just on the surface. And even the certified quality of flawless products cannot be achieved if they are not installed properly. In addition, it is always optimal to obtain information from various offices and obtain several opinions. So you should use the opportunity to test different courses with some players, to inquire about their structure and manufacturer, in order to find a subjective assessment of which surface is the most comfortable appeals to the players the most.
Artificial hedge undoubtedly means a high initial investment and regular high follow-up investments are inevitable, especially when recycling the old and installing the new "wall". The profitability calculation is usually based on the hours of use (except in the case of sports clubs, where the maintenance of training and game operations has top priority and justifies the price, i.e. there is also a higher budget) is good. Given the local clubs, are the possible 2,000 hours on the artificial turf panel almost achievable and is there an intact floodlight system that enables this use in the evenings and winter? Before starting an artificial turf project, there is a whole catalog of questions to be answered honestly.
Innovative Surrounding Coverage in Sports Courts: Artificial Grass Hedge
Whether football, golf or mini-golf, rugby or hockey - all of these sports have one thing in common: They are played on grass. Today, in many cases, natural turf is no longer used, but artificial turf. But on the other hand, artificial grass hedge panels help us to provide privacy and separate two different sports fields. While the benefits of artificial turf for your own garden or terrace are only gradually getting around, artificial turf has long been in great demand on sports fields. Even basketball and tennis courts have artificial grass panels nowadays. Also, sports clubs are increasingly converting their sports fields to synthetically produced green as a wall coverage Artificial turf is a particularly sensible investment, especially for sports facilities that are exposed to high levels of utilization.
This product has a solid structure and increases the joy of playing & the gaming experience. On the other hand, it is extremely resilient and extremely easy to care for
weatherproof. Moreover, artificial grass hedges are permeable to water and UV-resistant. As a most remarkable feature, this product is of high quality all year round for many years. An artificial turf hedge panel is particularly impressive because of its significantly higher resilience and service life compared to natural turf. Due to the comparatively very low maintenance requirements, artificial turf is also a real alternative for schools and other educational institutions. In addition to artificial grass hedges' advantages, as a side product, artificial turf in sports fields not only minimizes the risk of injury to the athletes but also protects their joints and muscles thanks to springy elastic mats under the artificial turf. The painful abrasions and burns of the skin, as they often occurred in soccer, are a thing of the past thanks to the high-quality synthetic fibers!
Extra: Artificial Grass Panels in Playgrounds and School Surroundings
Of course, schools, day-care centers, schools, and other public or private institutions and communities also benefit from sports fields and playgrounds made of artificial turf panels. The immense advantages over other materials, such as sand, wood, stone, or concrete, are literally obvious: artificial turf hedges not only protect children from injuries when crushing to the stone wall by falling from playground equipment and climbing frames, it also makes dangerous hollows and holes impossible. It does this completely without the use of environmentally harmful or harmful toxins.
As an expert with many years of experience, we offer artificial turf in different versions, all of which meet the high legal and parental requirements. Our artificial turf hedge panels for playgrounds are available in different lengths and compositions of fibers and many different colors. Select your desired wall covering directly from our range or request a sample in advance to convince yourself of the color, texture, and quality in advance. We are happy to advise you extensively. If you are willing to get deeper aspects about our other projects and innovative products, you are able to click on this link and read our next article.