How to use a fake grass wall in interior decoration is among the topics that many people have asked and seek answers to recently. It is possible to get a very stylish and impressive appearance in all areas with fake grass wall models, which have a very stylish appearance in indoor decoration and outdoor decoration. So, where can we use fake grass wall models indoors? Let's examine all the details together.
Fake Grass Wall Indoor Usage Areas
Fake grass walls are of great importance for indoor use as well as for outdoor use. In this sense, we have compiled the use and usage areas of fake grass wall models in the interior for you.
"Is the terrace indoors?" we seem to hear you say. However, yes, terraces are indoors that is a whole with our house, even if you cover your terrace with a tarpaulin that can be opened and closed, you can use it both inside and outside. You can cover the walls of your terrace for decorative purposes with grass fences. In this direction, you can create an extremely stylish and impressive decoration. Remember that you can get a perfect look by adding artificial decorative flowers to your terrace decoration.
In addition to terrace decoration, we can say that grass wall models are often preferred for balcony decoration. We can choose decorative fake grass wall models to achieve a unique look. As it is known, fake grass wall models help you to get a decorative appearance with different types. It helps you to feel yourself in harmony with nature while sitting on your balcony. Therefore, the best way to perfect your balcony decoratively is grass wall models.
Fake grass models are widely used indoors. One of them is sports complexes. To create the ambiance of a sport and create a different decoration, decorative fake grass wall models are preferred almost everywhere in sports complexes.
Fake grass wall models are preferred to achieve a unique decorative appearance in interiors such as cafes and restaurants. It is possible to obtain an awe-inspiring and stylish appearance with artificial flowers and different accessories in cafes and restaurants. People will not understand how time passes thanks to this decoration in the cafes and restaurants you own.
Decorative Fake Grass Wall Usage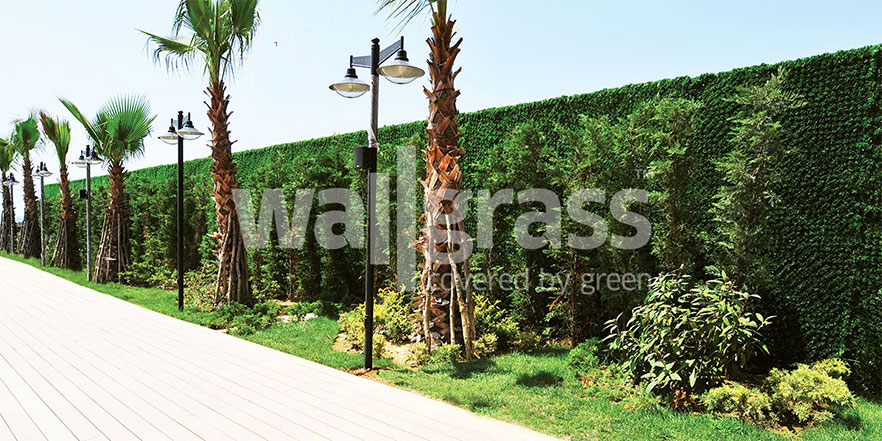 It is possible to obtain both a stylish and pleasant appearance with fake grass wall models, which are preferred, especially in outdoor areas. You can also get a unique look with grass wall decor models that can be used for security and decor purposes. You can also create spaces where you can feel in touch with nature.
The most used area for grass wall decor models is gardens. You can also use these grass wall models, which are preferred for decorative appearance and security in gardens, to divide your garden into two or three. In addition, it is possible to choose grass wall models intensely to bring your creative ideas to life and obtain a decorative space.
Grass Wall Models in Different Colors
It is possible to obtain a perfect appearance with grass wall models in different colors and models. Grass walls are not only available in green. There are grass wall models in different tones such as blue, purple, red, dark blue, black, and gray. In addition, it is possible to paint fake grass wall models at any time by individuals. For example, if you adopt a black-dominated style in your balcony decoration, green grass wall models do not create a pleasant appearance. For this reason, you can choose a grass wall painted in black and ensure that your balcony is in harmony.
After determining the fence boundaries, the grass fence that you will choose in terms of designing your garden perfectly cannot only open the door to success visually. While providing flawlessness in design, it is possible to obtain a unique appearance with grass fence models, which are also known for their functional features.
Decorative View with Flowers
You can create a decor consisting of colorful and artificial flower models on your fake grass wall. In this direction, it will be possible to obtain a decorative appearance with flowers. You can choose the perfect grass wall models that you decorate with flowers to get a reliable and stylish look on your balcony or in any outdoor space. You can also use these walls as a background and take a variety of beautiful natural photos.
Advantages of Fake Grass Wall
According to some, an artificial product such as grass always has a lower quality than the natural product it wants to replace. However, this is definitely not a correct idea. It is not possible to imitate a product that nature has given us with 100% success. Until a few years ago, it is possible to state that the above thought was correct. Thanks to continuous research and the evolution of technology, it has become straightforward to design or manufacture a material or product as an exact copy of its natural state.
These developments mentioned above are extremely critical for developing products related to our gardens and their configuration. If we return to our topic, you may encounter many situations where you cannot understand whether fake grass is a natural or synthetic product unless it is examined closely. Sometimes you may not understand whether the grass wall models we have prepared and presented for you are natural or synthetic.
The most important feature of fake grass wall models is that the grass looks natural and uniform throughout. With the fake grass wall, you will never experience natural appearance and bad views, gaps, or other serious problems caused by natural grass. In this way, it is possible to express that fake grass wall models are use of important.
Purchase, Installation, and Maintenance Costs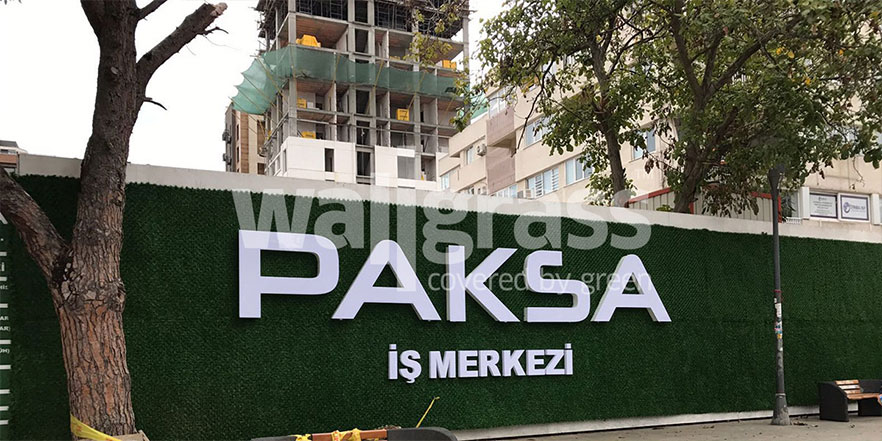 Our company is a professional company that has been serving its customers in extremely high quality and affordable way since the day it was founded. You can get great advantages with the fake grass wall models you will choose from our company in this direction. Our company offers you the highest quality services during the purchasing process, after the purchase, and during the installation. The installation of all products purchased through our company is carried out extremely successfully. At the same time, fake grass wall models are unique in terms of maintenance costs. Perfect decoration awaits you with fake grass wall models, which have much less maintenance cost than natural grass.
One of the most important issues that people consider in synthetic grass applications is the investment cost. Because the investment cost is considered one of the most important issues that determine which grass option to choose, natural grass generally requires high costs does not make it very healthy to benefit from this grass type.
Does Not Need Fertilization
Because it does not grow or spread, fake grass walls are beautiful and vibrant without regular fertilization. For this reason, it will always remain lush, green, and toxin-free. Hard fertilizers can also have a disastrous effect on the local environment by causing excessive algae growth in streams, rivers, ponds, and lakes. You can overcome all these problems with the use of fake grass walls.
Drought Resistant
The only water fake grass walls need is water used to clean occasionally to prevent odors and dust build-up. Otherwise, synthetic grass doesn't need water and is ideal for areas where drought conditions can be severe. The absence of rain and other types of precipitation can lead to water restrictions and strict penalties for homeowners who violate them.
Are There Any Disadvantages of Fake Grass Walls?
Perhaps the most logical disadvantage attributed to fake grass and artificial turf walls is that fake grass is a plastic-based product and can melt when overheated. However, one of the dominant factors that make us different as a company is the safety of our products. For this reason, we always provide the highest quality and reliable services to our customers in a professional way by performing the necessary tests to have the most modern, reliable security certificates (TUV Hellas). The products of our company are completely safe for both people and children, as well as their effects on the environment.
The grass fence, which offers a visual similar to the natural grass appearance, is actually a product obtained from different yarn types and processed in the form of a rug. Although the pile lengths of the yarns are different, a perfect result is obtained because the purpose is to provide a natural grass appearance. Thanks to providing a natural image, perfect solutions for people's perception of green spaces emerge. You can also contact us on our website www.wallgrass.com or by calling +90 (212) 678 13 13 to get detailed information about fake grass wall models.